Creating a Special Order
**The general special order guide can be found here.**
If a customer wishes to purchase an item that you do not have in stock, you can create a special order for the customer and order in the item that they would like to purchase.
First, insert the customer's item(s) into the transaction screen (Making a Sale) and when finished, select the green Finish & Pay button to bring up the process payment window.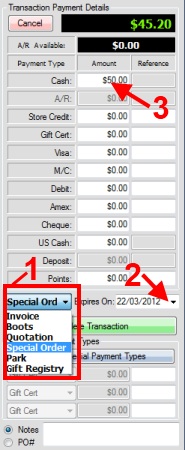 At the bottom of the window select the Invoice field to open your list of transaction types. Select Special Order from this list.
If you would like to apply an expiry date to the special order select the Expired On field to reveal a drop-down menu and select a date.
If you wish to obtain a deposit for the order, insert the deposit into the appropriate payment field.
Press the green Complete Transaction button to finish.
Similar to layaway, You will be able to see that your inventory reflects this special order in the SO column.
**If you would like to create a special order for an item which has not been assigned a SKU in your system, you will want to use the Special SKU function.**