Gift Receipt
A gift receipt is issued by a retailer at the point of purchase, it does not include price information for the purchases. The recipient of the gift is able to use the receipt to return or exchange the item if needed. A bar code(optional) is printed on the bottom of the receipt for quick return or exchange.
1. Access the POS menu. Then, select the appropriate customer.
2. Select the Print Gift Receipt checkbox. Add your items to the transaction.
3. Process the transaction as you normally would and now the regular receipt and the gift receipt will print out.
4. If you forgot to check off the Print Gift Receipt option you can also print the gift receipt in the PPost-Transaction window by clicking the Print Gift Receipt button.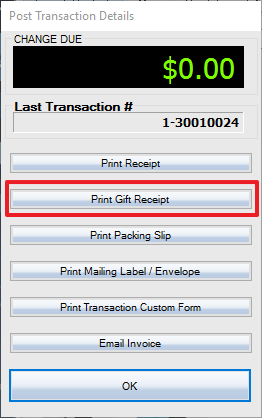 A gift receipt should have no pricing information.