WooPOS Software Version Update Notes
Please get the upgrade from the three dash menu or download the newest version here.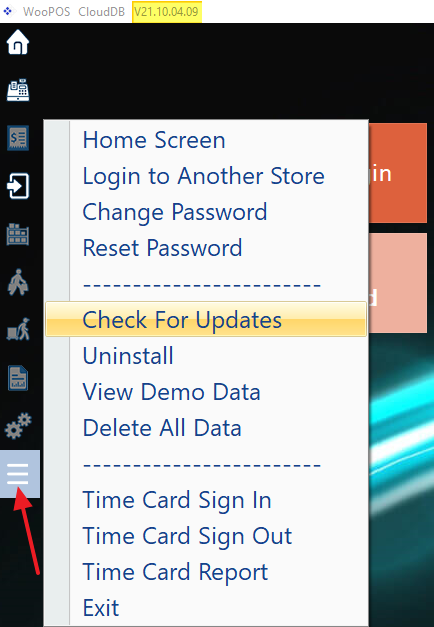 2023
V23.09.18 Added move items up and down button in the purchase order on-order screen.
V23.09.17 Added change description in the purchase order on-order screen.
V23.07.30 Added auto discount rules for Parent SKU (package UOM)
V23.06.15 Added switch to quantities to the existing line when adding the same SKU in POS
V23.05.18 Added Transaction Details With In-Store Location report
V23.04.08 Popup variations selection window in POS when one of the lookup codes entered
V23.03.17 Added switch to attach AR Statement when emailing an invoice
V23.02.01 Added surcharge and cash discount features
2022
V22.08.15 Improved FIFO cost calculation
V22.07.21 Added searchable checkboxes attribute
V22.07.06 Added feature to append attributes to the product description on the invoice
V22.06.19 Added dynamic columns to the product list view
V22.06.01 Added signature capture on the second customer-facing touchscreen monitor
V22.05.30 Added tips selection on the second customer-facing touchscreen monitor
V22.05.20 Added UPC database online lookup to auto-fill in descriptions and images
V22.05.06 Added feature to tare container after weighing
V22.04.20 Increased database security and added an optional IP whitelist
V22.04.05 Added support for postal USB weight scale
V22.03.15 Added switch to allow saving web API log
V22.03.12 Added CLF Distribution integrations
V22.02.18 Added switch to allow making changes to the finalized invoices
V22.01.20 Added switch to allow changing the payment date on payment transactions
V22.01.12 Added switch to auto import products from web to POS
2021
V21.12.31 Added FastBound integration
V21.12.01 Added SMS text message marketing integration with Twilio
V21.11.28 Added Mercato SFTP integration, export product list and import web order transactions
V21.11.18 Added Insta cart SFTP integration, export product list
V21.11.08 Added Blueberry cart integration, export product list and import web orders into Shopify
V21.10.08 Added auto discount rules by weekday
V21.10.06 Added auto delete related PO when deleting items in the work order or special order
V21.10.01 Added option to manage stock in store but not on the web
V21.09.25 Added AR statement by Store
V21.09.05 Added multi-location stock quantities data to WooCommerce
V21.08.10 Added taxes when adding vendor invoice to PO receiving
V21.07.25 Added searching column to Query Builder
V21.07.18 Added multiple currencies display in POS
V21.07.08 Added feature to allow scan package barcode and individual item barcode
V21.06.23 Added Verifone Point payment integration
V21.06.20 Recitified on NAB EPXPay
V21.06.10 Added dim (grey) background when the popup window shows
V21.05.27 Added payment summary report without day end
V21.05.16 Added option to skip existing value when importing images and attributes
V21.04.17 Added Gmail support
V21.04.15 Added Shopify multi-location inventory support
V21.04.04 Added resave or finalize work order by selecting transaction type in the payment window
V21.03.28 Added auto-select Work Order transaction type in the payment window
V21.03.05 Added custom view to list view
V21.03.02 Added Datalogic Magellan scanner and weight scale support
V21.02.29 Added Nexgo payment integration
V21.02.21 Added Pax payment integration
V21.02.07 Added Dejavoo payment integration
V21.01.15 Added multi-website (multi-woo or multi-Shopify) support
V21.01.04 Added department/category selection in POS front end
2020
V20.12.30 Added purchase order status to on-special-order items
V20.12.09 Added automatically send the transfer request to selected stores
V20.11.12 Fixed WooCommerce Media library loading issue
V20.10.25 Added Ingenico Lane 3000, Ingenico Lane 5000, Ingenico Link 2500, Verifone MX Series, Ingenico iSMP4 to WorldPay/FIS integration
V20.09.26 Added multi-batch Dayend per day
V20.09.02 Launched Dashboard and reports web app
V20.08.16 Launched "Quick Edit Product" mobile web app
V20.08.07 Added Valor Paytech payment integration
V20.07.16 Added PayRoc payment integration, pay AR by emailing payment link
V20.07.06 Speeded up searching and system response for over 500,000 products
V20.06.20 Added Remote Desktop access from the web browser (cloud-based access)
V20.05.29 Added auto print web orders
V20.05.11 Added auto-convert web orders to invoices
V20.04.18 Added designing and printing flyers and coupons
V20.04.12 Added Self-Serve order for resellers
V20.04.08 Tested adding quick launch buttons up to 25,000 buttons
V20.03.30 Allow recalling and making changes to outstanding Invoice transactions (Switch 113)
V20.03.16 Added batch uploading stock quantities to the web
V20.02.11 Added importing or adding stock quantities from Excel
V20.02.08 Fixed some bugs on layout printing of custom design invoice
V20.01.30 Added eConduit/BlackLine/Payroc integration
V20.01.16 Added touch-screen friendly scrolling
V20.01.05 Added Customized POS front-end screen
2019
V19.12.30 Added batch/expiry date and in-store location management
V19.11.15 Added auto email any reports in the scheduled time
V19.10.28 Added batch emailing AR statements
V19.10.05 Added Pointy.com integration
V19.09.26 Added BlockChyp payment integration for U.S. merchants
V19.08.20 Added North American Bancard payment integration for U.S. merchants
V19.07.26 Added tax by county and city combination auto tax rate calculation
V19.07.10 Added Tyro payment integration for Australian merchants
V19.06.01 Added OpenEdge (Global Payments) integration for USA and Canada merchants
V19.05.08 Added PC-EFTPOS payment integration for Australian merchants
V19.04.21 Added Global Payments integration for Canadian merchants
V19.03.24 Added ShipStation and Shippo integration
V19.03.11 Added SmartPay payment integration for Australian & New Zealand merchants
V19.03.10 Added kiosk mode (customer self-checkout)
V19.02.28 Added "Design Custom On Order Report" for sending purchase orders to vendor
V19.02.16 Added "Design Custom Invoice"
V19.02.01 Added auto print label function when scanning items to purchase order receiving
V19.01.18 Added historical inventory count lookup
V19.01.12 Added "Less Details" simplified payment window
2018
V18.12.18 Added bulk edit list cost
V18.11.16 Added full translation to any language for full-size invoice
V18.11.09 Fixed customer total revenue problem for inactive customers
V18.10.16 Added image icon to SKU list
V18.09.11 Added available quantity for BUNDLE and ASSEMBLED products, based on the availability of sub-items
V18.08.27 Allow to add SPECIALSKU or AUTOSKU to existing work order and add new auto-created SKU to special order
V18.07.22 Added the filter on special orders list to exclude non-manage inventory items and in-stock items
V18.07.09 Added auto send the transfer request to other stores if no stock in the web store or warehouse
V18.07.01 Added "In Stock Only" filter on POS product image list screen
V18.06.13 Increased data sync speed again.
V18.06.04 Added a third method (WooCommerce Media API plugin) to upload images to WordPress Media Library.
V18.05.21 Released store credit and reward points plugin and WooCommerce integration.
V18.05.10 Released gift card plugin and WooCommerce integration.
V18.04.27 Added bulk delete SKUs function, switch 103.
V18.04.24 Added auto upload orders and customer functions from POS to WooCommerce.
V18.04.02 Added extra filter by the query to the product listing screen.
V18.03.30 Added bulk update selected SKUs, switch 102
V18.03.09 Added Permalink Slug (Product Attribute) batch import and upload function.
V18.02.25 Added product post status (publish, draft, pending, private) options to batch publishing products.
V18.02.18 Added auto assemble product, switch 101.
V18.01.29 Speeded up cloud database synchronization.
V18.01.18 Fixed some SQL deadlock and timeout issues.
V18.01.12 Added drag and drop function to move or merge departments.
V18.01.08 Added bulk (build a query) update regular price and sale price function.
V18.01.02 Added quick QOH edit/adjust function in inventory item & lookups tab.
V18.01.01 Added SHA-2 code signing to prevent anti-virus software false alarm.
2017
V17.12.13 Added a manual "Reload Categories" button on the web (Product) info screen.
V17.11.21 Fixed a bug when minimizing the second screen facing customers.
V17.11.07 Added merge attribute function when deleting an attribute.
V17.10.17 Added dynamic wallpaper (home screen background) in c:\woopos\wallpaper folder.
V17.09.18 Fixed variation and attribute set naming issues with more than 50 attributes per item.
V17.09.06 Fixed stock quantities synchronization issue for variations created after publishing.
V17.08.23 Fixed POS rounding off issue on the tax-inclusive items.
V17.08.06 Speeded up WordPress media library loading.
V17.07.27 Speeded up creating inventory count snapshots for variation SKUs.
V17.06.25 Added keywords translation to any language other than English.
V17.06.12 Added the "Delete All Data" function to the main menu to delete all transactions, products, customers, etc.
V17.06.04 Fixed some bugs for the non-English (Unicode) environment.
V17.05.18 Added QR code scanning function to upload and download inventory count files.
V17.05.10 Speeded up URL image loading in POS.
V17.05.08 Launched WooPOS inventory count app in Google Play Store.
V17.03.01 First Release.
** The version number is the release date in YY.MM.DD format **