Reports Listing
Effective decision-making is and always will be a critical element of your operation's overall success. Whether you run a retail business or another type of business, you understand how important it is to analyze business data in a timely manner. Your ability to gather data and to analyze it quickly provides you with the enhanced ability to make a more informed business decision. For example, you may pull business data to determine which products are in high demand so that you can keep them in stock, move them to a more strategic location in the store or even create a special promotion. Business owners and managers can use POS system reports to make critical decisions about personnel, inventory, marketing, and general operations. WooPOS offers over 500 comprehensive reports covering every aspect of your retail business, helps you gain better control of your business through our reporting features.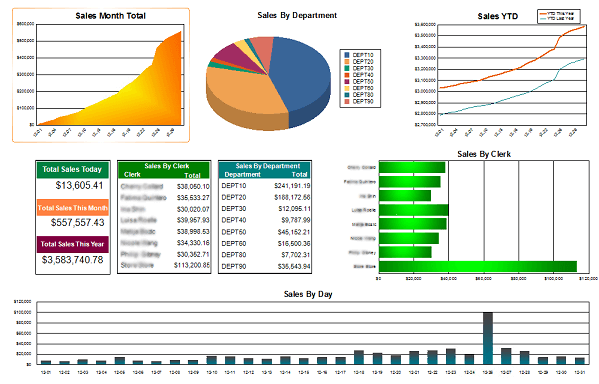 Sales Reports
Sales are the bread and butter of any business. Our POS sales reports help you figure out which items are bringing you the most profits, which times of the day/week/year are the busiest for your business, and which items are unpopular enough to remove from your shelves. Here are some key reports:
Best Sellers By SKU, Product Number
Worst Sellers By SKU, Product Number
Detailed Sold Item Listing
Gross Profit By Date, Department, Discount reason, Product Number, Vendor…
Payment Summary
Payment Detail

Voided Sales

Refunds

Discounts

Payments By Payment Method (credit card, gift card, web payment, etc.)

Paid In/Out Listing And Summary
Special Order
Sales Analysis By Department, Season, Brand, Vendor, SKU, and more
Sales Per Period
Monthly Sales By Trailing Twelve Month
Monthly Sales By Inventory Turnover
Weekly Sales Dashboard
Hourly Sales Report
Sales Summary
Sales Details
Transaction Details & Listing
Detailed Item Sales Analysis By Department, Vendor
Restock By SKU, Product number, Transaction Date, Vendor and more
Sales Quantity Dimension Matrix by Customer, Vendor, SKU, and more
Sales and Layaways By Department, Clerk, Company, Customer, and more
Sales Taxes By Date, Department, Clerk, Company, Customer, and more
Cost Of Goods Sold
Monthly Sales By Dashboard
SKU Benchmarking By Department, Vendor, Brand, and more
Inventory Reports
WooPOS Point of Sale provides many reports to help you track your inventory investment and maximize your turn and profit. Manage inventory levels across stores, pull up item lookups across all stores, and send products where they sell best. These reports can all be customized include the data you want to see:
Inventory Analysis
Inventory Adjustment Summary
Aged Inventory
Inventory On Order
Products Catalog Listing
Inventory Over Maximum Qty
Inventory Below Minimum Qty
Inventory Below or Equal to ReOrder Point
Inventory Performance
Inventory QOH Location Matrix
Inventory Value Detail
Location Catalog Listing
Operating Statistics
PO On Order
On Order Cost Value
On Order Retail Value
Purchase Order Payable
Purchase Order Summary
Received Purchase Orders Summary
PO Receiving
Rank Sell Through
Sell Through
Sell Through vs. Last Year
Inventory Transfer Listing
Inventory Transfer Summary
Physical Count Variance
Inventory Count Sheet
Customer Reports
Utilizing CRM reports, you can analyze each customer's order history to better tailor their offerings according to their preferences. Keep track of detailed customer information, find out who your most loyal customers are, how much they spend with you, and what they're buying. Here are some reports:
Customers Listing
Customers By Dollars Spent
Customers By Item
Customers By Purchase Date
Points Statement
Store Credit Statement
AR Statement
AR Summary
Aged Receivables
Gift Cards / Gift Certificates Activity Summary
Gift Certificates Redeem Status
Outstanding AR Transactions
Outstanding Deposit
Consignment Report
Gross Profit By Customer or Customer Type
Sales & Layaways By Customer or Customer Type
Sales Details By Customer or Customer Type
Sales Taxes By Customer or Customer Type
Transaction Listing By Customer or Customer Type
Employee Reports
It can be difficult to determine an employee's precise value to your business and the areas in which they need further training. Instead of hovering over your employees' shoulders at all times (which we don't recommend), you can use our smart reports to keep track of your employees and monitor their sales.
Sales By Clerk
Clerk Productivity Report
Hourly Sales By Clerk
Gross Profit By Clerk
Sales & Layaways By Clerk
Sales Details By Clerk
Sales Taxes By Clerk
Transaction Listing By Clerk
Spiff Commission By Clerk
Dayend Report By Cashier
Time Card Report  (time clock/hours worked)
Vendor Reports
The vendor/supplier reports will help you manage your payables to ensure that you pay your vendors timely, forecast your cash outflows and determine which vendors are costing you the most money for the goods and services they provide to your company.
Inventory Analysis By Vendor
Inventory On Order By Vendor
Inventory Performance By Vendor
PO On Order Cost Value By Vendor & Cancel Date
PO On Order Cost Value By Vendor & Order Date
PO On Order Cost Value By Vendor & Shipping Date
Rank Sell Through By Vendor
Receiving By Vendor
PO Summary By Vendor
Gross Profit By Vendor
ReStock By Vendor
Benchmarking By Vendor
Vendor Contact List
Vendor Invoice List
Vendor Invoice Summary
Vendor Payment
All reports can be accessed from the web browser or email at a scheduled time.