Uploading SKU List to an Inventory Count Scanner
**Please read the inventory count guide first**
Before you begin counting inventory with a handheld scanner or a mobile phone, you must first upload your SKU/Product list in order for the device to recognize the SKUs you are scanning and associate the numbers with your product descriptions.
The SkuList.txt file is located in the root folder of the scanner internal storage. It's a comma delimited CSV file which contains Sku, Description, Price. It looks like this:
SKU_87,Woo Album #2 QOH:-104,$9.00
SKU_73,Premium Quality QOH:-22,$6.00,;08621611811;,1
SKU_53,Happy Ninja QOH:4 SnapshotQty:0,$200.00,;UPC1;UPC2;EAN3;
To upload your SKU list to any inventory count scanner, first, Login into the system and access the Products menu. Select Inventory Count tab, then Scanner/File. If you don't see the button, you need to select or create a batch first.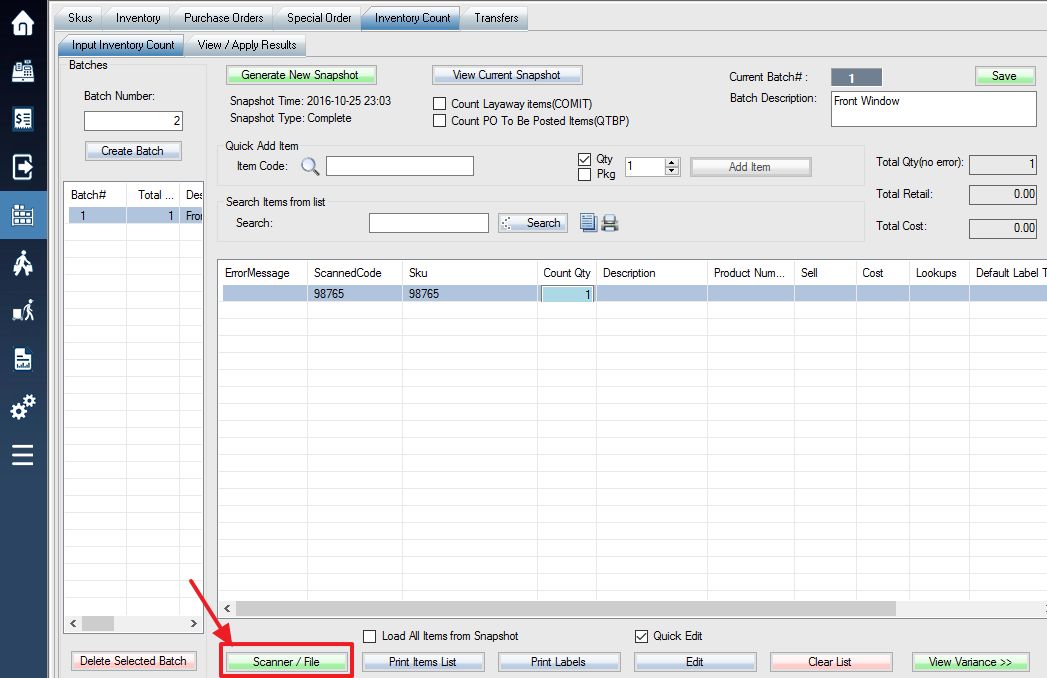 Related Steps:

       **If you have not already done so, generate an inventory snapshot. (see: Generating Inventory Snapshots)**
       **If you have not already done so, create a Batch with the ID of your choice. (see: Creating Batches)**
Option 1: Through Cable
If you connect the scanner through cable, select Create Sku List from the window that appears.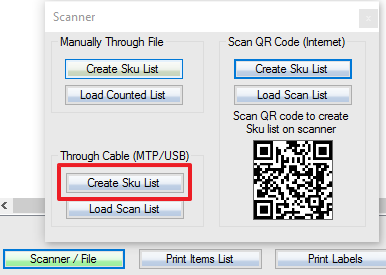 Option 2: WiFi QR code scanning
If you have internet access on the scanner and the computer, you can create the SKU list by scanning the QR code on the scanner.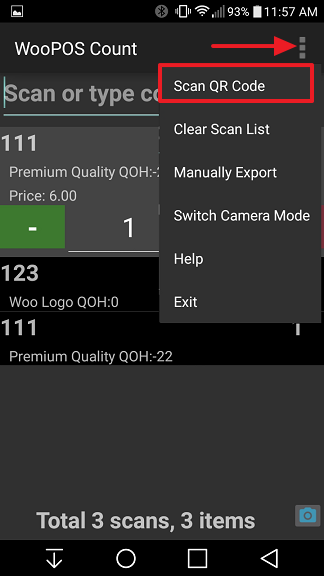 Option 3: Through File
If you cannot upload the SKU list to the scanner you can also manually transfer the skulist.txt file to the scanner device.  Click on the Create Sku List button to generate the needed file in the subfolder "Count" in the WooPOS software data folder (C:\WooPOS\Count).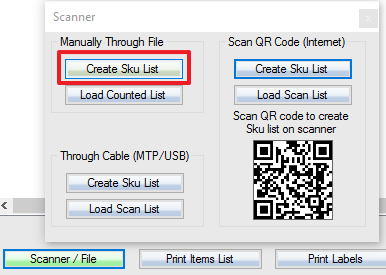 Using the file explorer navigate to the file location and copy the skulist.txt file directly onto the root folder of internal storage of the connected inventory scanner device.
Once you uploaded the Sku list to the scanner, you can use the scanner to count inventory.